Addressing the food crisis in Peru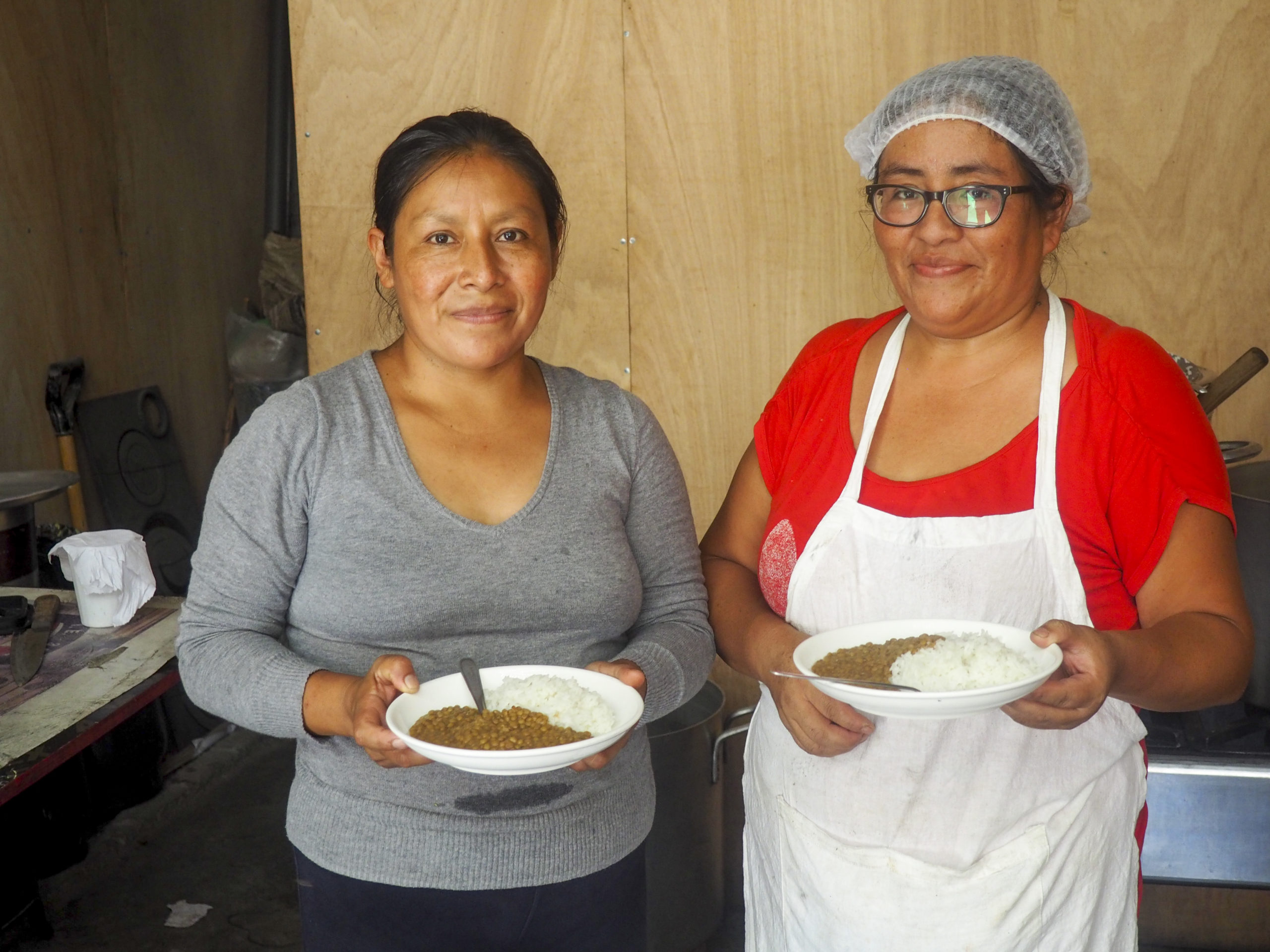 Before the COVID-19 pandemic hit, Luzmila Huarag held her life and the lives of her children in a fine balance. A single mother to three children in the San Juan de Lurigancho district of Lima, Peru, she was running a small business selling tamales and looking forward to resuming her studies to become a teacher. Life was not easy, but she was managing.
The pandemic, however, changed everything. During lockdown, she and millions of others in Peru were left without an income and no way to provide for their families. Globally, the number of people without adequate nutrition surged during the pandemic, but the situation was especially dire in Peru, with poverty rates rising exponentially.
"All of the doors that had been open before were closed to me. I became very desperate. It felt like everything was lost," says Luzmila, 43.
It was at this low point that women in her neighbourhood and other communities across Lima began organizing communal meals to ensure that families received at least one decent meal a day.
"Eight women do the cooking. We cook every day for 100 people, feeding 40 families," Luzmila says of her own neighbourhood. "We also feed elderly people and others who cannot do their own cooking. I have no other income. With the community kitchen I can be sure that my family will be fed."
The Common Pots have expanded across Lima, providing a unique social protection network against the escalating hunger crisis. To date, more than 2,500 community kitchens have fed nearly 250,000 families and a Common Pot Network and Food Security Board was established by local government, community kitchen leaders, and civil society organizations to coordinate the effort.
To ensure that this initiative continues and supports the needs of the urban poor in Lima, Cuso International developed the Mujeres Unidas por la Seguridad Alimentaria y Ambiental (MUSA)/Women United for Food and Environmental Security project, which began in January 2022. The project links women farmers with women's networks to share knowledge, advocate for food security, and support women's participation in decision-making.
"This project creates a groundswell of mutual support and enables knowledge exchange among women and communities," says Pilar García, Cuso International Country Representative, Peru. "Women living in poverty will learn how to exercise their rights, use their expertise to be effective participants in decision-making, and rethink current approaches to accessing nutritious food."
MUSA incorporates environmental components, such as agro-ecological innovations for greater production and entrepreneurship. This includes efficient water collection and reuse, diversified food production and processing, and improved access to local resources such as seeds, compost, environmentally safe pest control, and technical assistance, as well as engagement with supportive organizations and volunteers to ensure sustainability of the project.
As part of the Common Pots, Luzmila and other women in her neighbourhood run a community garden, using the harvested vegetables in the meals they cook throughout the week. Produce from the garden is also distributed to families in the community to use in their own meal preparation.
Luzmila is also able to send her children to extracurricular activities such as karate and soccer, through connections made with the Common Pots and Cuso International partner organization CENCA (El Instituto de Desarollo Urbano). CENCA provided space for local children to access their online classes during lockdowns as well.
"I hope in the future my children will have more opportunities, so they can attend university and become professionals," says Luzmila. "I also hope I can resume my studies. I wish that all the women in my community could have access to more training opportunities, so they can follow their dreams."
Join us today with your support! You'll train more women like Luzmila on farming and food production as well as equip them with the tools they need to grow this innovative and sustainable solution to Peru's hunger crisis. Donate now, and Global Affairs Canada will match your donation 6x!
The impact your gift will make:
$108 provides 10 community pot members the transportation costs for their training sessions.
$162 helps 15 community pot members access financial management training.
$268 equips 1 woman farmer with the tools and training to create flourishing food gardens.